Other than the images of the Cydonia Face, Mariner 9 frame: "4209-75" has made more rounds in the UFO circuit than perhaps any image.  These are the usual portrayals, and the feature is called the "Martian Airport" or the "Airport Terminal."  The current image number is  07938353 and can be downloaded from here: 
http://pdsimg.jpl.nasa.gov/project/m71/mr9iss_0006/c079xxxx/
Be sure to download the lbl file and the img file.

It's found in numerous books.
It shows up on hundreds of youtube videos, and is even lauded by experts to this day.
(Please stop, there are plenty of unexplained anomalies to show).
This very nice and intriguing gentleman says:
"We call it the airport.  This is the parking lot. 
This is the administration building here. 
This is the main terminal here. 
And I imagine it is a pretty busy facility. 
Ships coming and going. 
But it's not an airport; it's very likely a space port."
 Oh, well - the video I originally posted has been removed, but here it is from Project Camelot:

(Skip ahead to about the 44 minute mark).

I take this as a lesson in image enhancement as well as satellite image interpretation. 
Below, we see how it really looked before zealous image processors got ahold of it:
Lots of contrast and sharpening, and other effects,
 and we have ourselves a Martian Airport:
Here are some gentle adjustments to it - and then enlarged, and rotated:
Decades later, the area was re-imaged by the MOC as a wide-context image:
 Still, it looks to my eyes like something solid down there... 
For my eyes at least, I see this as a solid formation.  High points seem like low points, and vice versa. 
Just to be sure, what we need to do is rotate the image, and see how it looks: 
Ah, so it is a depression - channels that go down below the surface of the ground-
not a raised object.
But is this the same form that we saw in the old Mariner photo?
Let's compare:
Hmmm.  Is that really it? 
Let's look at our more mildly adjusted Mariner image in comparison:
Oh.  Yes, that's it.
And if you want an even closer look, Hirise has also imaged it. 
They call it "depression in avernus cavi region."
Let's flip that 180 degrees so it is easier to comprehend:
This is what it looks like closer to the ground: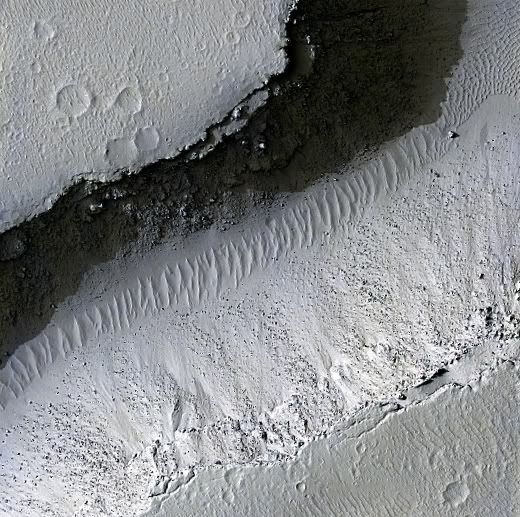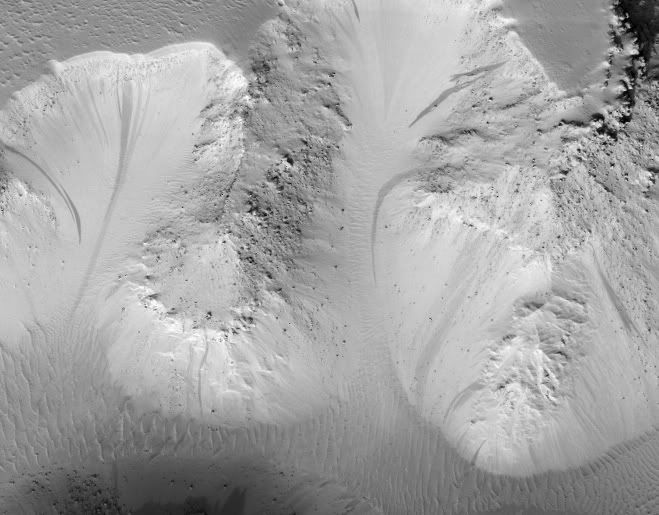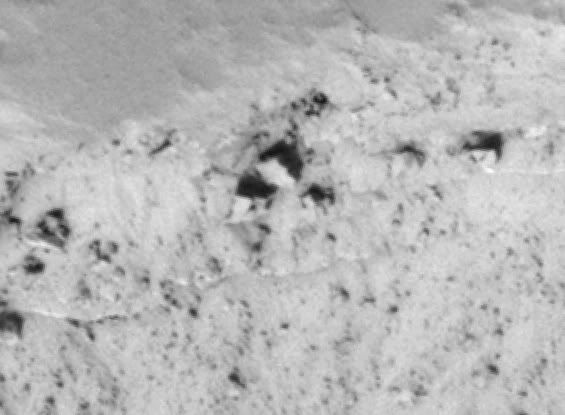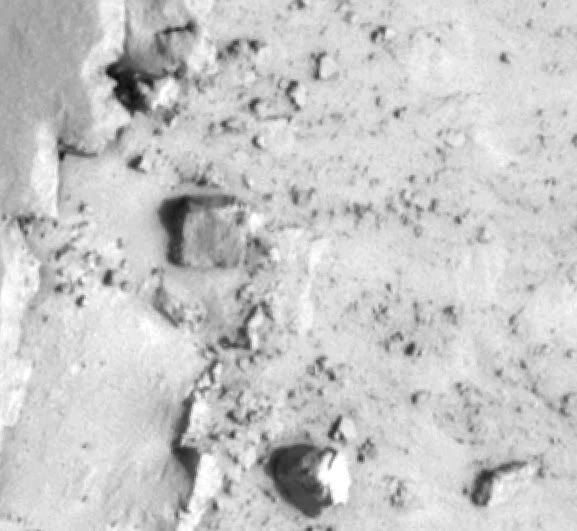 You can also see it on Google Earth 5.0 - Mars:
Just punch in these coordinates:
 1°37'29.28"S 173°38'47.56"E
So there are two lessons here.  Enhance gently, if at all.  We have to be careful not to add something to a form that isn't really there. 
And rotate your image as necessary to get a grasp of the true depth contours. 
Satellite image interpretation is done by experts because there are many things to know.
The angle of light can produce tricky effects, and play games with untrained eyes.