ANSWER
 READY FOR THE ANSWER?
.
.
.
.
.
.
.
.
.
...scroll down..
.
.
.
.
.
.
.
.
.
.
.
.
.
.
WAS THIS YOUR GUESS?
.
.
.
.
.
.
.
.
.
Anyway, here's the answer I promised. # 18 really is an Old Man. It's Michelangelo's rendition of Noah, in the Sistine mosaic.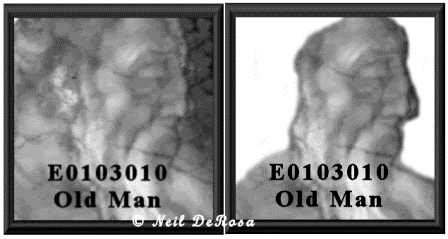 This thought question posed by Neil Derosa was posted to preserve Neil's work for others to see.  Unfortunately for us, Neil passed away. 
Neil's brother, Rich DeRosa posted
this message
on October 11, 2009:
I would like to take a minute to inform Neil's friends, colleagues and readers that my Brother died suddenly last Friday while out dancing with friends on a dance circuit. Dancing was one of Neil's many passions, so in a way he died doing something he loved to do.

I know Neil and I had our differences, but I will always admire his intelligence, and his steadfast adherence to the idea that a man must have his own belief system, and that a man had a right, if not duty, to challenge the prevailing wisdom on any subject. Neil's second book, "Apocryphal Science" stands as a testimonial to that belief system.

Neil knew much about many subjects that alot of us would love to know just a little about any one of them.

Back in the early 2000s I was having a telephone discussion with him about the turmoil in the Mideast. I was working in the SF Bay Area at the time. He told me he had written a novel about the topic almost 20 years ago, but that he never quite finished. He had much material to work with, since he had been to both Israel and Saudi Arabia for extended periods of time in the late 70s and then in the early to mid-80s. He said he looked at it and did some edits over the years but still felt it wasn't finished. He asked me if I would be willing to read it and give him my honest appraisal. I agreed.

He sent me the manuscript, which I read during the next week or so. I was blown away by how good it was, but most importantly, I felt that it could have been written "yesterday".

I made up a list of suggestions, mostly minor, and he quickly brought the book up to the finished product. My wife spent about a week editing, but that was it. The book, "Joseph's Seed" stands as the testimonial of Neil's belief that there can be peace in the middle east, but it's going to take a powerful leader in both Israel and Saudi Arabia or other Arab state to make it happen; someone who accepts the fact that they can and should co-exist.

That episode started a period of 5 years or so where we collaborated on many science papers, where I played the role of his technical guy, and he wrote the paper. Some of them were published in Tom's Meta Research Bulletin, and many of them were detailed here on the Paradoxes Resolved Message Boards.

In the later years, as the debate on the Artificial Origins Hypothesis, as it pertained to Mars, raged, Neil and I found that we no longer looked at it the same way. I had some interest early in the subject, but later became convinced that "pareidolia" was a much more likely explanation.

Neil stuck to his guns, and continued to lay out his case here in the "Faces from the Chasmas" thread. History will decide who was right, but regardless how it works out, Neil's contribution and efforts will be remembered for years to come.

I could talk extensively about Neil's many talents, his great artworks, his athletic career, but I think maybe I'll leave that for another time, another place.

Thank you for reading this,
Neil's Brother and Sister-in-law,
Richard and Susan DeRosa
 Special thanks to Neil DeRosa for posting all of these intriguing images!
 The combined images, in thumbnail size, may be found on the following page:
The images posted above were created by
Neil DeRosa
.  They are not in the public domain, but are protected by copyright.  Please contact Rich DeRosa through the
Meta Research forum
if you wish to obtain permission to use them. Thank you Rich DeRosa and Tom DeRosa for allowing me to preserve Neil's images on this website!