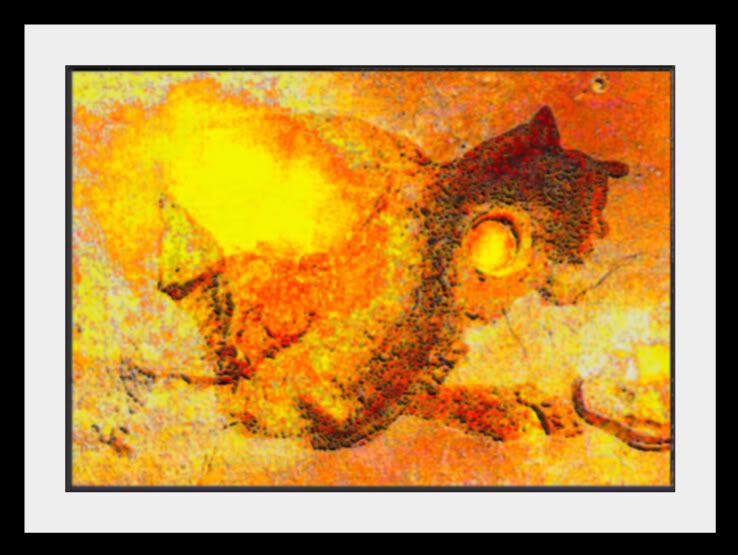 In Viking image 070a13, an effigy of a lion head appears on the ground next to the five-sided "D&M pyramid" of Cydonia.
From this angle, a sculpted lion head also appears on the rough side of the pyramid: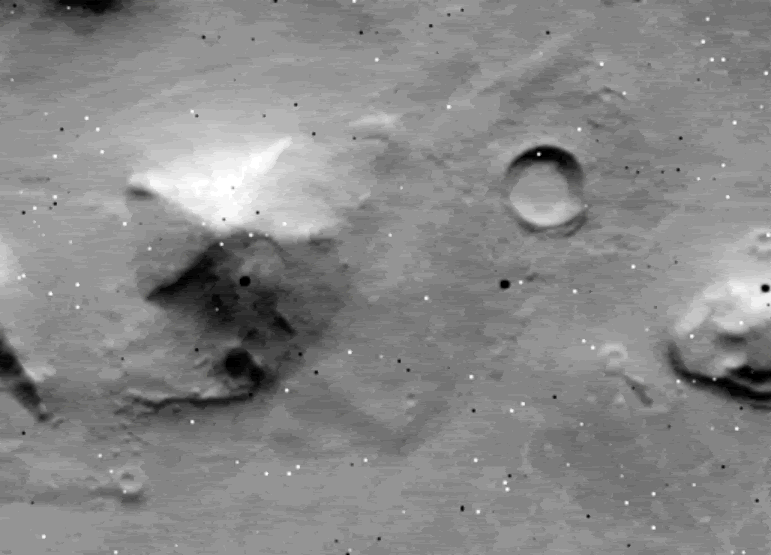 The sculpted lion head is enlarged below. 
The black spot on the upper left of the nose is a Viking image artifact.
Below, I've rotated the image 40 degrees clockwise so that the lion's head is at the top of the image.
I've drawn one line straight through the sharp straight mark under the lions chin, and another line straight through the middle of the famous Cydonian face ("the Ares face").  My lines aren't perfect, but they're pretty close.
The lines emanating from the lion head and the face intersect- and form a 90 degree angle.  A right angle is often used in earth construction and is geometrically significant.
Similar size.
The lion head and the "Ares face" are also similarly sized.  On the raw image, the lion head measures 39 pixels wide by 46 pixels long.  The "Ares face" measures 39 pixels wide by 56 pixels long.
Similar orientation.
Both the lion head and the "Ares face" are also in roughly the same north south orientation, with the top of each head pointing generally to the north.
The land effigy and the lion appear also on the ESA image which contains this feature.  The sculpted lion is not quite as clear: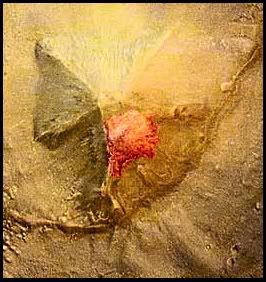 The land effigy shown by ESA is perhaps a better shot of the underlying landform:
In this version, we can see more plainly that the land effigy lion appears in much the same posture as the Sphynx of Giza.  The outreaching paw is more evident.
The land effigy shows a single paw, with scratch marks on the ground just in front of the paw.
The D&M Pyramid (composed mainly of triangles) is the nose in the larger Cydonia lion in the ESA image.   (This lion image was discovered by EA, and possibly others).
The NK Pyramid is the furthest point of the Lion's claw.  the claw is raised just above the lion's head, poised to scratch its victim.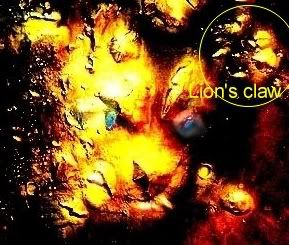 Other lions appear on the MOC/Themis mosaic version of the D&M pyramid.
The head of this lion is artistically limited into the parameters of a triangle, consistent with the pyramidal artform. Its single giant claw is reaching out of the center of the pyramid, as if to scratch.  It is as if the lion is emerging from the pyramid to attack.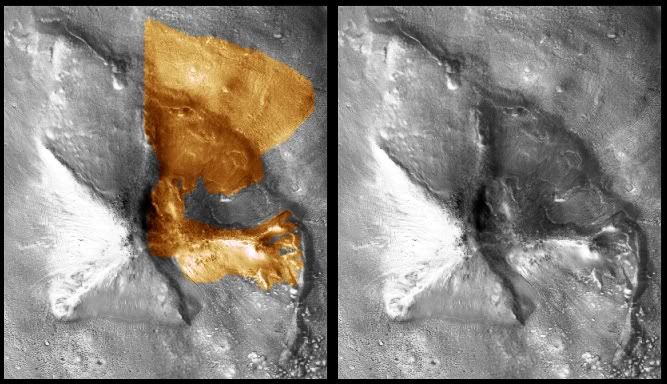 Yet again, this is an attacking lion, with one paw showing.
Two more lion heads appear at the pinnacle of the pyramid, just behind the profile of a more human-like face (dubbed the sphynx by EA).
These shots below were derived from a composite image of the D&M Pyramid posted by Keith Laney and Jeff Williams of the Hidden Mission forum:
One of these lion heads is just behind the human-like face, and looking to our right.  The other smaller lion head is located in the center of the larger lion's forehead:
Here's another lion found in an altered ESA version of the image.  This alteration was done by
Walt
: